Studio Devil Virtual Tube Amplification
Studio Devil is a guitar and bass tube amp emulation software technology, available as plugins for audio host recording software, and as standalone applications for live play. If you're looking for a way to play or record your guitar directly with your computer, and to get the best coveted tube amp sounds, you have come to the right place.
Studio Devil utilizes the world's best tube modeling algorithms from Gallo Engineering to bring you the best in simulated tube amplifier tone. Many others have tried...but only one delivers the dynamic response you've come to expect from real tube amps. Plug into a virtual guitar amp today!
Amplify Anyware.
Whether you're jamming tracks on your Mac with Garage Band or Logic, a PC with Cubase or SONAR, or running a ProTools system, you can experience Studio Devil on whichever platform inspires you most.
Ampli-Firebox Mark II!!!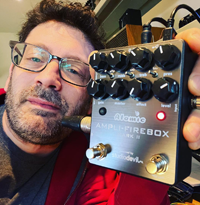 Ampli-Firebox Mark II is shipping now!
Studio Devil's world renowned amp modeling and effects appearing once again in Ampli-Firebox Mk II from Atomic Amps. Four years ago, we pioneered the world's first all-digital amp modeling, cabinet IR loader, and effects processor into a stomp box called Ampli-Firebox. Now, meet its successor, Mark II!
Bass Box is here!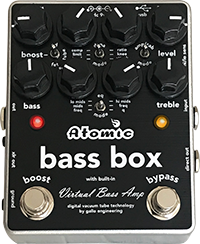 Studio Devil's world renowned bass amp modeling and effects from our very own award-winning Virtual Bass Amp plug-ins are now packed into a compact pedal called Bass Box, available from Atomic Amps! Ever wondered what Virtual Bass Amp and some killer dynamics processing would be like in a portable stomp box? Well, this is it!